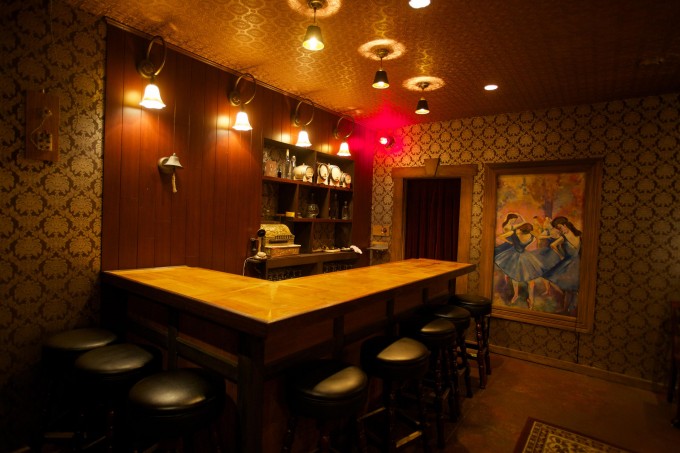 In my prior post on improvising a conduit bending machine, I mentioned that it was for a period reproduction lighting fixture for a theatrical project I was working on.  Well, the project is Speakeasy, and I'm happy to say that it's up and running and getting great reviews.
So as you'd hope to find in a speakeasy, there's a bar, and we wanted some more commercially styled lighting to go above it.  There were these gooseneck fixtures from the palettes I had put together, that we liked (top center):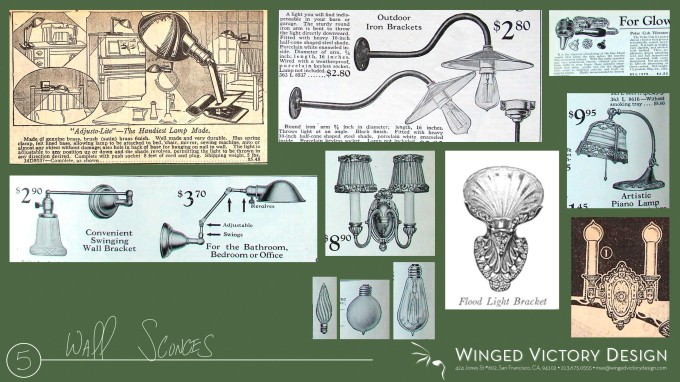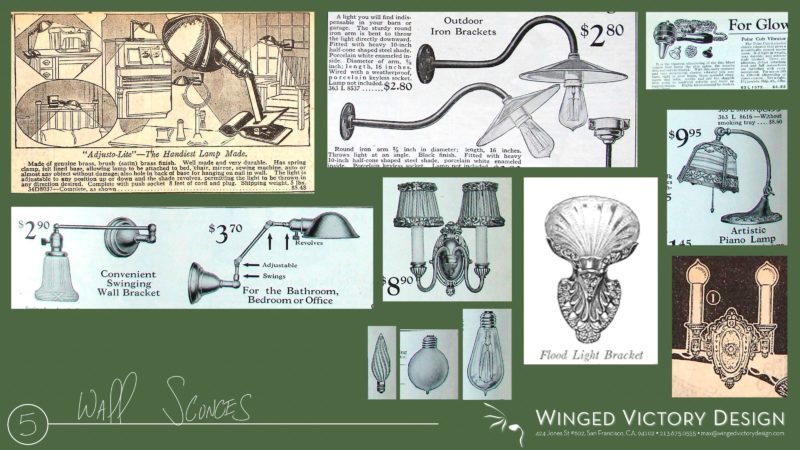 My issue with the fixture as shown is that industrial chic wasn't really a thing back then, in the way that in this day you can go to an upscale bar and all the lighting fixtures will be up-armored and distressed so that they look like they're fifty years old.  Also, on a more practical level, period commercial lighting is a lot more difficult to find then residential lighting, and matching sets are pretty much impossible.
So I came up with this concept image, which retains the idea but it is a little more sophisticated implementation: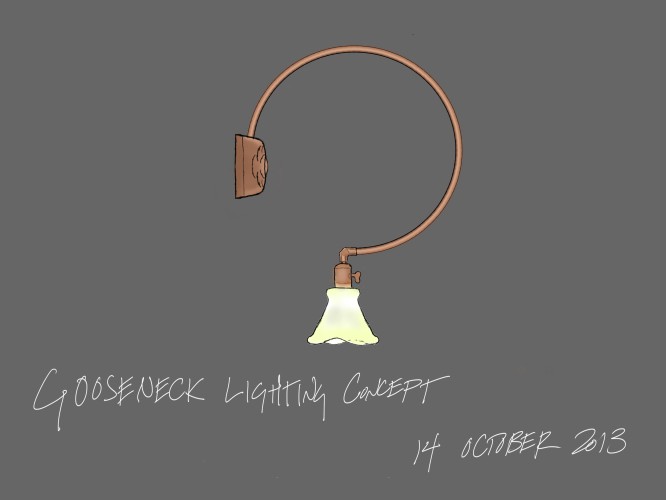 You'll recall that we began with four freshly bent pieces of 1/2″ conduit: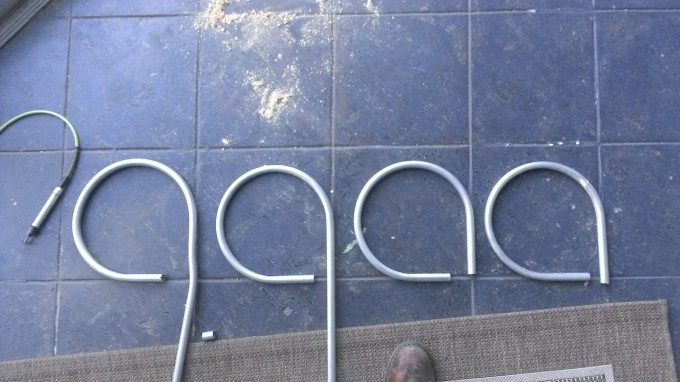 I then cut bases out of MDF, improvising a jig to cut out the circles, and then around them with an ogee bit to do the corner detail: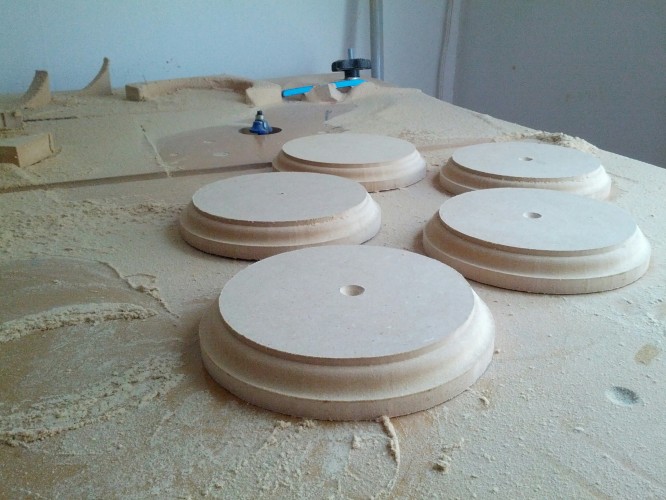 Which, by the way, makes a fucking mess: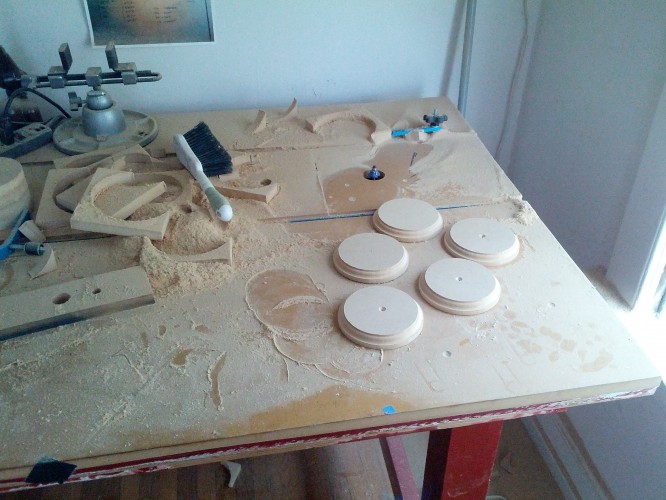 I cobbled together the rest of the connecting hardware from a pretty broad swath of departments at Home Despot: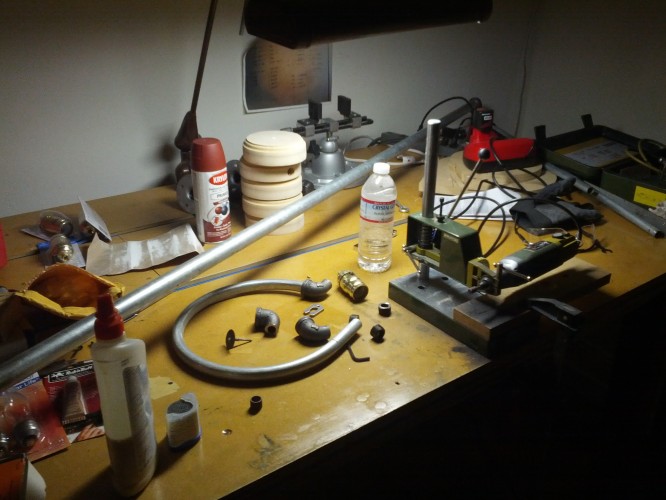 And assembled: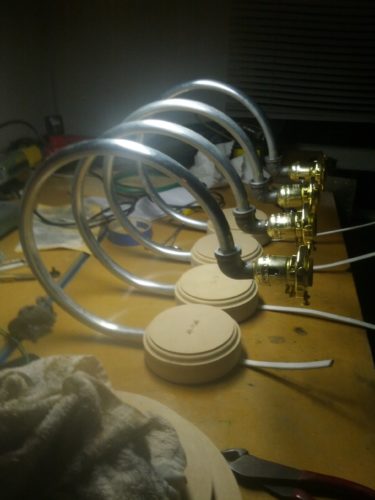 I got a pretty acceptable bronze finish with a product called Rub n' Buff.  Which has a hardcore following of the people who buy yard sale furniture and make it fab-ulous, so there's plenty of good blog posts out there explaining how to use it, as it turns out.
Anyway, final shot of the bar.  I'll write up some more on Speakeasy, which is one of the most ambitious theater projects I've done, soon.