Note: This content originally appeared on my theatrical lighting design portfolio site, www.wingedvictorydesign.com. I decommissioned that site to reduce the number of websites that I have to patch and update :)
Also, these photos were taken in 2005 on film (Ektachrome 320, RIP), so the image quality isn't the best by today's standards.
ABOUT THE PLAY
Wilhelm Reich in Hell is a high-concept musical about the rather colorful life and views of Dr. Wilhelm Reich. The play is in the form of a trial with the audience as jury, and is heavily laden with visual metaphors from the Circus, the Milton/Dante conception of Hell, and 60's pop culture.
The Set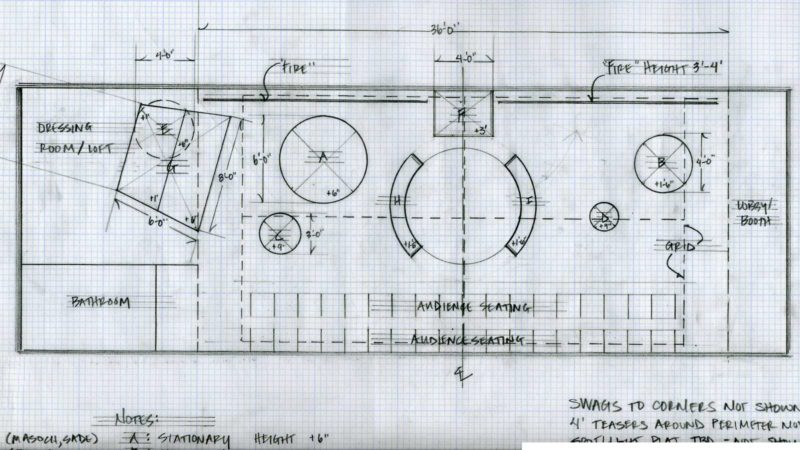 We wanted to create an immersive experience, and this was acheived by having the design elements wrap around the audience in all directions. Above, scenic groundplan by Sara Huddleston. The venue was a very long and narrow box, and was configured along the long axis to present a panoramic effect.
Visual Research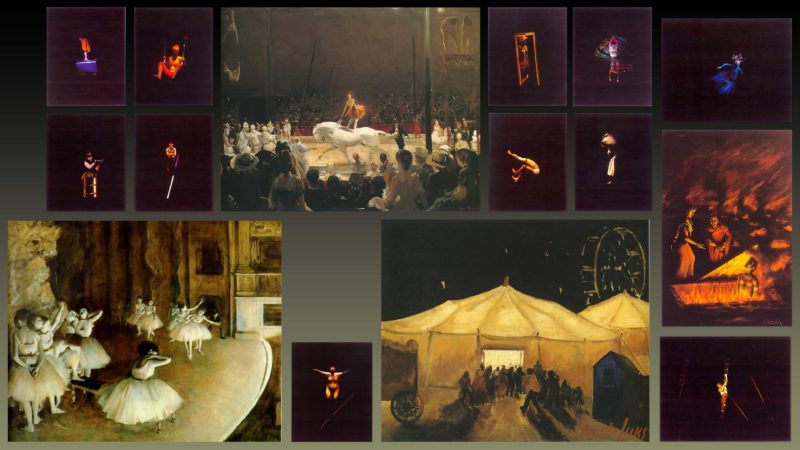 Some of my visual research. From the circus stuff, I used the strong primary color palette and the reliance on spotlights. I also used the uplighting shown in the paintings, as it gave a hellishly presentational effect.
Preshow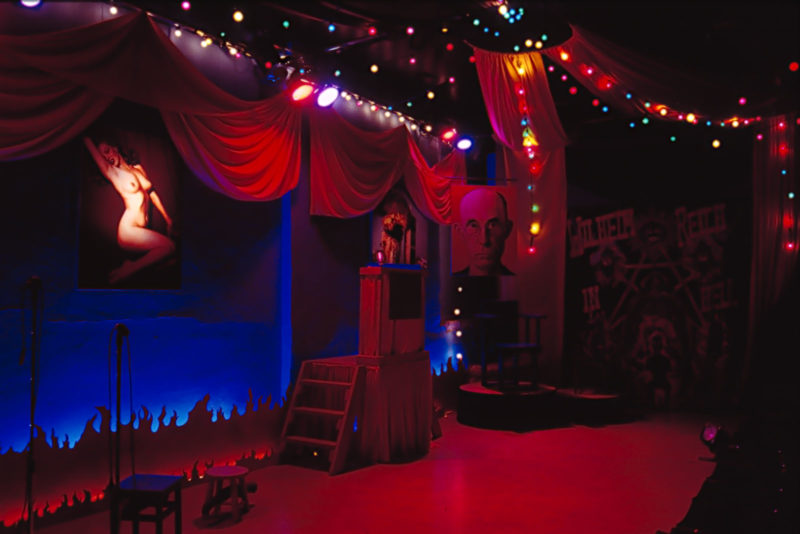 Above, the preset as the audience enters. The carnival strings gave a wonderful ambient illumination and reinforced the 'circus tent' effect from the swags of colored fabric that were hung radially from center stage.
The 'flames' were simple cutouts of painted luan, with rope lights between the two rows and fluorescent striplights with gel tubes behind them.
Opening Spectacle
Lighting for the for the spectacle numbers was from the footlights installed just in front of the audience.
Spotlight Usage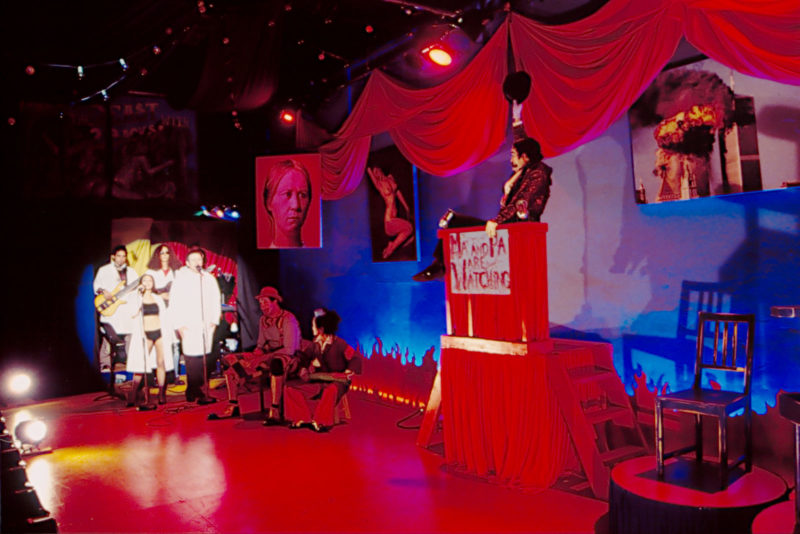 The Spotlight is an important idiom of both the circus and musical theater, but there wasn't room for a real spotlight anywhere. So I made a swivel out of plywood scraps and a lazy suzan, bolted two Lekos with drop-in irises to them, and handed the operators some thick gloves. Thanks, Shannon.
Intimate Moments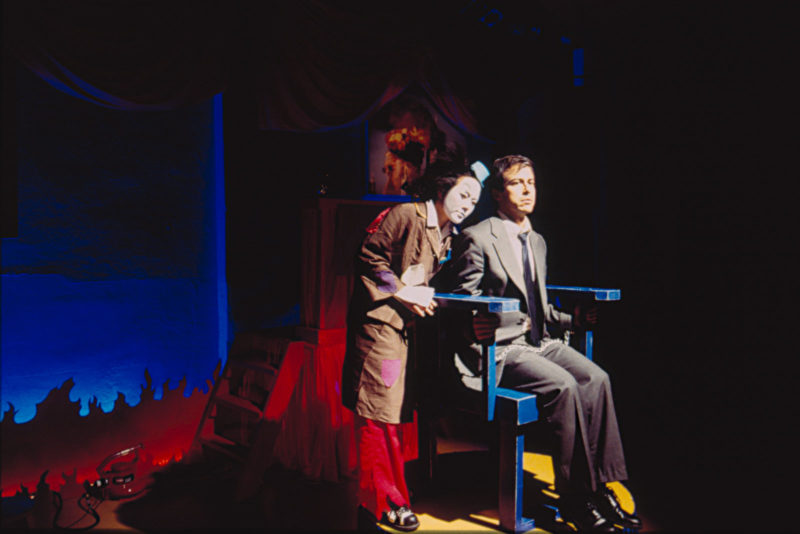 Especially on a show like this that is so focused on presentation, it's important to close the action down to a small area for the more intimate scenes, to humanize and act as punctuation to the action.
Credits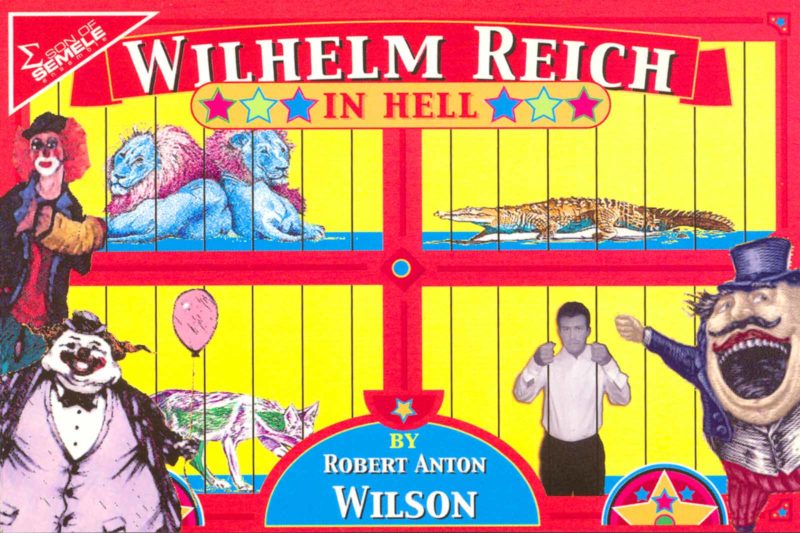 Wilhelm Reich in Hell was produced by Son of Semele theater company at Cell2.
Director: Reverend Mike Smith
Producer: Mathew McCray
Music composed and directed by: Kristen Toedman
Written by: Robert Anton Wilson
Scenic and Sound Design: Sara Huddleston
Lighting Design: Max Pierson-Liénard
Costume Design: Jennifer Kirschman
Props: Alexander Wells
Stage Manager: Elizabeth Atkinson