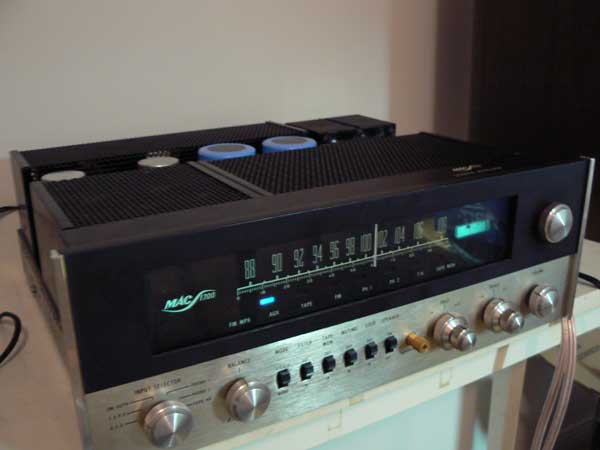 Prologue: I inherited a McIntosh 1700 amplifier from the 70's from my grandfather. It's an amazing piece of equipment, assembled by hand and weighing in at around 40 pounds. A few years ago, it started making a horrible buzzing noise, which from research on the internets I identified as ripple voltage from failed power capacitors. In the process of fixing the problem, I learned more than I ever wanted to know about capacitors, vintage electronics repair, and why drinking and soldering don't mix. Sadder yet wiser from the experience, I wanted to write up a really thorough walkthrough of how to fix it if you're having the same problem, because it might be helpful to someone and overall it was actually kind of an amazing experience for me. Drop me a line if it was helpful or you have any questions, comments, corrections, additions, rude gestures, barnyard animal noises, etc. Lezgo! But First: You will be dealing with mains voltage and large capacitors, both of which can injure or kill, the latter even after the power has been disconnected. Obviously, I am not responsible for your safety. I am not even an expert, but I will try to remember to highlight really crucial things like this. If after reading through you think this is not for you, may I suggest this guy? I decided to do the job myself but he was very helpful and knowledgeable when I talked to him on the phone. Okay, continuing!
You Will Need:
Soldering iron and solder. I got a Weller WES51 for Christmas and it's the cat's fucking pajamas, y'all. But I did this project with my $15 Radio Shack model, so it can be done with that. If you're a masochist.
Desoldering Iron. Spend the $20 for a cheap one, it's worth it. Also desoldering braid is sometimes useful.
Surgical forceps (2). For use as heatsinks so that you don't damage parts while soldering, and generally to hold things in place while you're working on them. There are other soldering clips designs but nothing else works as well.
Service manual. This shows the electrical schematics and lists specifications for the parts.  I got mine from this dude, by e-mailing him and asking nicely. He is awesome and if I'm ever in Switzerland I will buy him a beer.  Update: I recently got permission to post it online, you can download it here.
Replacement parts.  Mouser and Digikey are both great, my parts list for the MAC1700 is here.
Multimeter with, at a minimum, AC Volts, DC Volts, and resistance measurement.
A dremel or hacksaw, for the multisection cans.
Beer and Johnny Cash's Live at Folsom Prison album.
Symptoms: Ripple voltage sounds like someone saying "zzzzzzzzzz…". It's a constant sound that will be present as soon as you turn your amplifier on, remain constant whether you are playing music or not, but increase or decrease with the amount of volume. It will definitely sound unpleasant, and if not fixed immediately may damage your equipment. Unplug your amp and do not power it up until they have been replaced. Before we get hot and heavy with the soldering iron, you may want some explanation of what all that crap underneath the "No User Serviceable Parts Inside" does.  Here's a quick overview of how power rectification works and how to choose the right replacement capacitors.
Continue Reading for the complete walkthrough….
Continue reading "Rebuilding the Power Supply on a Vintage Amplifier" »